Buy
You can also support our programs through purchasing our nature products. Learning about nature is fun and exciting, as well as peaceful and restorative. We hope your purchase will strengthen your relationship with island forests, beaches, waters, and meadows—and all the life within them. Quality is important to us and we love your ideas please  Contact us and let us know what you think.
Family Walks on Vashon   $18.95
We are in our third printing of this popular naturalist walking guide to Vashon and Maury Islands!  This book explores 55 of the islands' most beautiful beaches, trails, and scenic road loops. This book includes route maps and photos; important details for families (is this walk stroller friendly?; where is the nearest bathroom?; what are the native edibles?); ecology and natural history information for each walk; helpful hints on being outdoors with kids; illustrations of native edibles; and a notable tree treasure hunt! Book preview
Click button to purchase paperback.  Click link to purchase ebook.  Purchase the ebook.
Laminated Field Guide to more than 130 island species!   $7.95
Learn how to identify more than 130 island species; also includes a map of island preserves best for wildlifewatching. Folds to fit easily in a large pocket or backpack. Water resistant (not waterproof). Special thanks to islander Jane Neubauer for suggesting this field guide opportunity, and for helping make it happen in many ways from start to finish.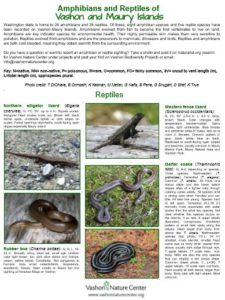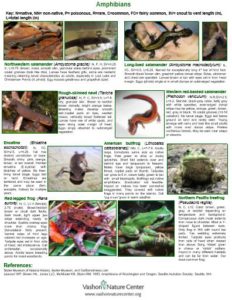 Field Guide to Amphibians and Reptiles of Vashon and Maury Islands   $5.00
This one page laminated field guide includes photos, descriptions and facts about all reptiles and amphibians known to occur on Vashon and Maury Islands.
Vashon Nature Center Trucker Hat   $20.00
Be part of our community!  You can be stylish and support Vashon Nature Center at the same time with this well made, durable and comfortable trucker hat. We've gotten great reviews and always enjoy seeing these sported around town. Embroidered on island by Charles and Pete Designs. One size fits all. Navy blue or tan (green is sold out!).
Navy Blue Trucker Hat   
Sand Trucker Hat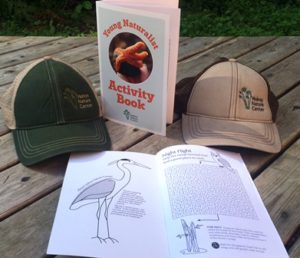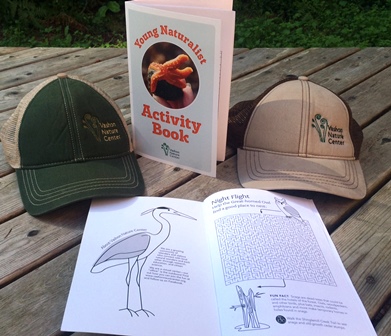 Kids Naturalist Activity Booklet   $5.00
Great for those who want to learn more about wildlife and habitats on Vashon and Maury while playing games. Enjoy madlibs, crosswords, nature math, and find the difference between pictures. Your child will learn about all our major island ecosystems and be encouraged to observe and draw what they see! Most appropriate for K-6 grades.
Maury Island Aquatic Reserve Interpretive Map   $5.00
Find your way around Maury Island Aquatic Reserve and associated upland parks and preserves on Maury and Vashon Islands. Where are the best birding spots? Where is the nearest bathroom? Where do seals haul out? A quick look at the map icons can tell you the answers. In addition, Points of interest highlight unique stories about human history, wildlife, and plants of this spectacular area. Printed on 11×17 waterproof, durable paper. A free digital copy of this map in pdf form is found on our Research page.
Salmonwatcher Field Guide   $25.00– SOLD OUT
The best guidebook on salmon we have ever seen created by our salmonwatcher friends on the Kitsap Peninsula. This guidebook is completely waterproof and has information on salmon identification both juvenile and adult as well as information on salmon spawning, diet, habitat and ecology, ocean range maps, and the role of salmon in human cultures. The price reimburses us for printing costs for this book. Priority goes to active Vashon Nature Center Salmonwatchers for the limited copies available.
Vashon ABC's book   $18.00
Vashon ABC's book is a beginner's guide to the easily observed animal and plant life found on Vashon's varied shoreline habitats. Though Gustafson, a local science and environmental educator, took all the photographs on Vashon, much of the life shown in the book lives throughout the Puget Sound region. With over 80 full color images, the guide also includes a glossary of words, a description of marine invertebrate groupings, and a list of best beach behavior rules.
 Birds of Vashon   $28.95
Enjoy this updated second edition of Ed Swan's popular Birds of Vashon.
It features updated and expanded species accounts, all-new color maps, and dozens of beautiful color and black and white photos from some of the best Vashon and regional nature photographers. The book includes:
*  Seasonal abundance charts for every species seen on Vashon
*  An updated site guide to all the best birding hot spots
*  A description of the habitat and history of this unique island jewel
*  A checklist of all the birds of Vashon
Photo card set   $12
Looking for the perfect card to send that shows your love for Vashon and Maury islands? This set of 5 photo cards features photos of Vashon wildlife and habitats by island photographers (both kids and adults!) We have picked some of the best photos from our collection to celebrate the diversity of life on these islands. Cards are blank inside, 4×6 inches, and include envelopes.
(Featured photo by Bianca Perla)