Garden Green Vashon
Vashon Nature Center is grateful to Michael Laurie and Diane Emerson for putting together the following wealth of information on how to minimize the need for pesticides in your home and garden. This is the compilation of several years of research on the part of this team and the information is specifically tailored to be helpful to islanders.
If you have additional questions please don't hesitate to contact Michael and Diane: 206-567-5492, dianeemerson@yahoo.com mlaurie@mindspring.com
Basic Ways to Minimize the Need for Pesticides
Build Healthy Soil
Plant a Diversity of Plants
Choose Plants that Attract Beneficial Insects
Leave Some Wild Areas
Right Plant, Right Place
Garden Green Purchasing Guides
These guides were created to provide quick and simple advice on how to use safe, green methods to address garden disease, insect, moss, non-insect pest, slug, and weed problems.  There is a card for each of those topics.  All products are rated based on what the science says about their active ingredients.  We used the Pharos web site to develop the ratings.  Pharos uses scientific studies from all around the world to rate the safety of thousands of chemicals.  www.pharosproject.net
Green gardening products that work
Pest Solution Fact Sheets
These sheets  have been created to provide detailed information about some of the more common garden problems.  There are sheets on slugs and snails, quackgrass, powdery mildew, moss, dandelions, and aphids. Each sheet starts with an explanation of the problem, a listing of safe, green solutions to the problem, examples of particular green products, how to safely apply pesticides, how pesticides work, and green, safe prevention options to address the problem.  The sheets contain product selections which are available for sale on Vashon Island.
A series of fact sheets for best ways to control each common garden pest: Pest Solution Toolkit
Additional fact sheets for specific pests:
Have a rat problem? Check out this new rat trap shared with VNC by islander Mike Tracy.
Beachcomber article featuring local gardener techniques: Safely Secure Your Garden Against Slugs
Pets and Pesticides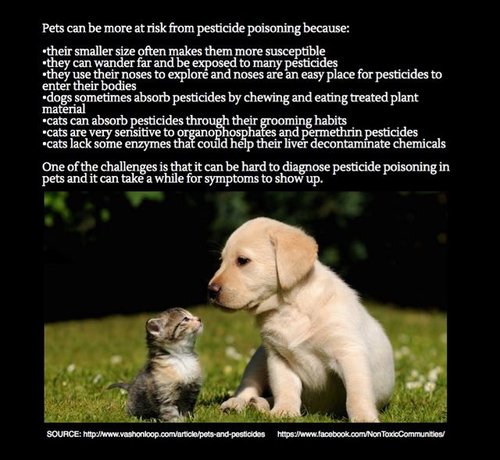 There is limited information and research on the topic but many pesticides that are legal and for sale on Vashon can be harmful to pets.  To be sure to protect your pets, please only make use of products in the green category in our Garden Green Purchasing Guides, and avoid pest sprays containing garlic oil.
Further reading:
Bug poisons from a veterinary perspective
Pesticides and Groundwater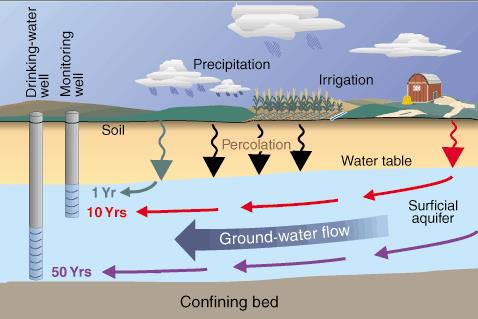 On Vashon and Maury islands we get most of our drinking water from groundwater.  And even many streams on Vashon and Maury obtain some of their flow of water from groundwater at least for part of the year.  Because of this the Vashon Maury Island Groundwater Protection Committee commissioned initial research on on pesticides and groundwater.
The following white paper on pesticides and groundwater on Vashon was created at the request of the Vashon Maury Island Groundwater Protection Committee and written by Michael Laurie and Diane Emerson:
Pesticides likely to get into Groundwater on Vashon and Maury Islands
Pesticides and Salmon
Pesticides and Salmon
The salmon are one of the most popular wild creatures on Vashon Island.  Their numbers are currently significantly lower than what they were decades ago.  There are a variety of reasons for this: excessive fishing, land practices that reduced the quality of the habitat they like, land practices that put pollutants into the streams that were harmful to the salmon, and more.  The Vashon and Maury Island Land Trust, King County, Vashon Nature Center, and many island volunteers and landowners, have carried out much habitat restoration and research.
But there is still more that we all can do to help the salmon recover.  Research carried out by the United States Geological Survey, found levels of 2,4-D in nearly all the Puget Sound streams they tested.
More recent research carried out by NOAA Fisheries have concluded that pesticide products containing 2,4-D are likely to jeopardize the continued existence of all salmon species.
2,4-D is found in a number of weed control products for sale on Vashon and in Weed and Feed products.  We strongly encourage people not to use any of these products – especially near Vashon streams or near the shoreline.  If you are unsure as to whether a product contains 2,4-D, read the label of the product to see if 2,4-D is an active ingredient in the product you are considering using or already using.  You can also find information on products that contain 2,4-D by consulting our Garden Green Purchasing Guides. These are available here at the Vashon Nature Center web site, available at our Garden Green website and in printed form at Ace Hardware, Island Home Center and Lumber, and the Country Store and Farm on Vashon.
Salmon Safe Weed Control
Methods and Products to Use
Products to Avoid
Black Plastic – double layer laid over gravel driveways for a couple of weeks in spring or summer
Preen® Weed Preventer containing Trifluralin
Boiling Water poured on weeds in sidewalk cracks. Best if a hot sunny day.
Preen® Weed Preventer Plus Plant Food containing Trifluralin
Concern® Weed Prevention Plus®* (Corn Gluten Meal)
Spectracide® Weed and Grass Killer (Diquat, Fluazifop-P-butyl, Dicamba)
Flame Weeders for patios, paths, and emerging weeds prior to planting your veggies.

Ace Green Turf Ready to Spray Weed & Feed Concentrate

(2,4‐D, Mecoprop-p, Dichloroprop‐p)

Goats and Sheep can be hired to eat blackberries, ivy, holly, etc.
Ace Ready to Spray Concentrate Lawn Weed Killer (2,4‐D, Mecoprop-p, Dicamba)
Grow a Multi-Layered garden which will shade out some weeds
Ace Spot Weed Killer Ready to Use  (2,4‐D, Mecoprop-p, Dicamba)
Hand Weeding tools. Have salesperson show you their latest and most effective; long handled hori-hori, etc.
Bayer Advanced Season Long Weed Control for Lawns (2,4‐D, Isoxaben, Mecoprop-p)
Hire Teenagers to hand weed

Ortho Weed B Gon Max® Weed Killer for Lawns (Mecoprop-p, 2,4‐D, Dicamba
Mulch: Bark, wood chips, other mulch

Ortho Weed B Gon® Weed Killer for Lawns

(Dimethylamine salt of 2,4-D acid, Dimethylamine salt of Mecoprop-p Acid, Dicamba acid )

Preen® Organic Vegetable Garden Weed Preventer (Corn Gluten Meal)
Scotts® Liquid Turf Builder® with Plus2 Weed Control  (2,4‐D,  Mecoprop-p, Dichloroprop-p)
Vinegar Spray on seedlings and new growth

Scotts® Turf Builder Weed and Feed (2,4‐D,  Mecoprop-p)
Water deeply but infrequently, if your soil is at least 4 inches deep
Scotts® Turf Builder®  Winterguard with PLUS2 Weed Control  (2,4‐D,  Mecoprop-p)
Water with drip irrigation to stop watering weeds
All other Weed and Feed products.
June 23, 2016, Diane Emerson, Michael Laurie, mlaurie@mindspring.com, 206-567-5492
More information on salmon and pesticides
Pathways that pesticides can use to move around
Pesticides can move around in many ways and they can travel long distances.  The graphic below shows many ofthe possible pathways they can take including evaporation, spray drift, wind erosion, precipitation, runoff, seepage, entry through wells, withdrawal from wells, movement in clouds, groundwater discharge to streams, and recharge from streams.