Meeting the Lion: A Vashon Nature Center Blog Series: Part 1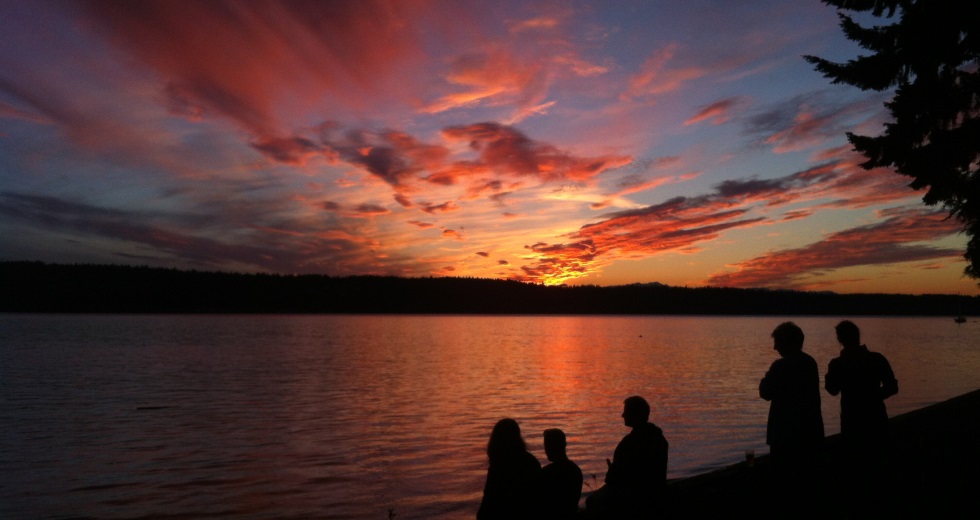 by: Kathryn True
Vashon-Maury Islands have been host to a cougar for the past year. In the absence of an on-island state wildlife office, many islanders have turned to Vashon Nature Center for questions about the cougar and to report sightings. As we hit the one-year anniversary of the big cat's arrival, we wanted to reflect on this year of living with a cougar. This blog series is not intended to make a case either for or against the cougar being here, but to encapsulate from a natural history perspective how islanders live with and experience one element of our varied wildlife. Through human stories about living with the cougar, we hope to shed some light on our expectations and fears, how they shape the world around us, and how nature shapes us.
A year ago, on a fir-scented summer morning somewhere on the Kitsap Peninsula, a young male cougar woke up with his mother and siblings for the last time. He was restless. Recently, on more than one occasion, he'd come upon the scent of another male cougar, and it was now time for him to follow growing urges to find his own territory—to make his own home. Maybe he wrestled with his sister, maybe his mom licked his head one last time, or maybe he set out without looking back. This is the natural order of things for a male mountain lion—to leave home before the age of two, locate and mark a territory, find females, and reproduce. This was much easier to do before widespread human development—former forest lands turned unpredictable mazes of roads and fences, are an ever-thickening obstacle course of homes, and humans.
The young cougar headed east, and sticking to wooded areas he sought cover as he wended away from his natal forest. It smelled more and more promising as he moved away from a loud strip of black land whizzing with metal boxes, and he finally reached a beach and looked east; a sea of salt water lapped at his paws, rounded stones pressed between his toes. In the distance, a wide swath of green was enticing, though he'd have to swim to reach it. He didn't mind swimming, so in the promising light of a July half-moon, he set off dog-paddling—or cat-paddling, as it were. Breathing heavily, he focused his gaze on the land ahead, surprising a passing sea lion, and powered through the intense currents of what he didn't know as Colvos Passage. Exhausted, he finally he pulled himself onto a deserted island shore.
Below are stories of the first two cougar reports Vashon Nature Center received last summer. Subsequent posts in this series will cover additional cougar encounters and impressions from islanders. We extend a heartfelt thanks to those of you who shared a story, photo record, or your expertise with us. There is one perspective we regret not being able to include—that of the big cat himself.
First sighting: Dilworth, July 26, 2016
On a glowing evening late last July, islander Suzanne Fiala and her sisters relaxed in lawn chairs in her yard sipping iced tea and soaking in each other's company after picnicking at Lisabeula. It was a rare reunion for the three women who were raised on a 160-acre ranch in northern Idaho, and now live in Denver, Bellingham and Vashon. Growing up with bears in the garden and elk bugling through their dreams, wildlife was commonplace in their family's remote outpost situated between Sandpoint and Coeur d'Alene.
Well-settled on two acres in the Dilworth area in northeast Vashon, Dr. Fiala, a family practitioner who works for Kaiser, has lived here 11 years and knows well the likely wild mammal suspects on her island property: deer, raccoons and squirrels. Her three rescue dogs, a pit bull, Boston terrier and pug mix, keep them wary. So, she thought her sister was mistaken when she said there was a cougar strolling along the edge of the property about 100 yards away. As they turned their attention to the northern fence line, the sisters saw that it was indeed a mountain lion. None of the women were scared, being familiar with cougars from their childhood, and they stared transfixed by the beauty of the giant cat as it sniffed its surroundings.
Fiala, a self-described animal lover and conservationist, was excited because she knew this was a rare occurrence on Vashon. Before any of them could grab a phone to take a photo, the cougar had passed along the edge of the pasture and disappeared into the trees behind a barn.
"We had a very clear line of vision and it was very much a cougar," Fiala says. "It didn't appear hungry and seemed extremely comfortable in its surroundings. It sauntered the way cougars do, with a long, looping tail practically touching the ground. It did not go towards my neighbor's sheep and stood there less than a minute."
The sisters were the first to see the cougar that has been making Vashon-Maury its home over the past year. The lion is a source of wonder, fear, joy and anger. Since arriving on our shores last summer, he has been making a living along the beaches and in the woods of our wilder areas, occasionally crossing roads surprising drivers and pedestrians.
Suzanne Fiala has followed the cougar's adventures in stories in The Beachcomber, finding it both sad and troubling that it is viewed as a nuisance, and that people and animals have at times felt threatened by it.
"I have no fear or worry when I'm out walking. I fear more for the cougar's safety than that of islanders. I recognize that wildlife has its place and is being encroached upon, and I see no reason to kill this magnificent animal," she says. "We are a small community and I'd hate for us to clash with an animal that could potentially be a danger to small animals or small children. With our over-population of deer, it's hard to see why it would attack something else unless it was an unusual situation. I wish they would live trap it and relocate it—and I hope it goes back where it came from to run with other cougars. I hate to see it destroyed."
This sentiment is shared by many islanders, but Washington Department of Fish and Wildlife cougar biologist Brian Kertson explains relocating is easier said than done.
"'Removing' the cougar would take one of two forms; relocation or, more likely, euthanizing the animal. Both options require locating and capturing the cougar, and that is easier said than done. Vashon is not a large island, but there are still a lot of places for the cougar to hide or go undetected," Kertson says. "Additionally, Washington Department of Fish and Wildlife (WDFW) does not have personnel stationed on Vashon, so any capture attempt would require circumstances that ensure the cougar would still be on-site when a team arrives. Unless those circumstances present themselves, removing the cougar is not an option."
He adds, "Regardless of whether Washington Department of Fish and Wildlife removes this cougar, Vashon's residents need to recognize their island is home to a variety of carnivores, and living with these species requires that people adjust their behavior accordingly."
"Studies have shown that it is quite normal for a young male cougar to move into a smaller temporary territory that is safe from big aggressive older Tom cats," says Vashon Nature Center Director Bianca Perla, an ecologist. "I believe he has found his refuge here. Perhaps he is biding his time until he gets big enough, strong enough and experienced enough to venture out and fight for a bigger territory on the mainland with access to mates. Territorial space is scarce, he can't just move in anywhere he wants to, or be dropped anywhere we want to drop him. If he leaves the island, no matter where he goes, he will have to fight to stay there. It is not an easy life, and the best thing we can do for him is give him the space and understanding he needs to live."
Second sighting: Bate's Walk at Paradise Cove, Aug. 5, 2016
It is one of Bobbie Erwert's favorite summer-day rituals on the island—the 5 a.m. walk with her Maine Coon cat, Buddy. He likes exploring outside, so she walks her indoor cat on a leash to protect him from wild animals like raccoons that populate the area. Bobbie's husband, Bill, has been coming to the family beach home on Bates Walk at Paradise Cove since the early 1960s, and the couple has spent part of the year on the island for nearly 40 years.
On Aug. 6 of last year, Bobbie and Buddy had just rounded the corner of her boathouse when she heard a loud snorting coming from the water to the west. She and Bill had watched deer cross Colvos Passage before, but at first glance the large animal swimming her way looked big enough to be a horse. It continued to approach and when it finally reached the shore and exited the water onto the beach, it looked exhausted. The tide was high and there was not much exposed sand, so it was quite close to the bulkhead. As Bobbie registered the animal's long tail and pointy ears—she knew she was looking at a mountain lion.
"I'd never seen a cougar in the wild before. It froze and looked at me," she says. "I know better now, but I grabbed my cat and ran."
Rushing into the house, she shook her husband awake, but by the time they returned to the beach, the mountain lion was gone. They quickly called Camp Sealth—a Campfire Camp located just south of their cabin, fearing for unsuspecting campers, and alerted neighbors to the cougar's presence.
Vashon Nature Center's Wildlife First Responder Kelly Keenen visited later that day to look for tracks, but any evidence had been washed away by the high tide.
A year later, Bobbie Ewert doesn't think of the cougar often, and she still enjoys her early morning summer walks with Buddy. And she says if she does see the big cat again, she knows now not to run.
These first cougar reports initially created a mystery—one sighting was on the north end of the island on land near Dilworth; and the second, nearly two weeks later, was of the cougar swimming across from Colvos … did we have two cougars, or only one that attempted to leave and then returned? We will never know for sure. However, current evidence from Vashon Nature Center's WildCam network (a fleet of motion-sensing wildlife cameras placed around Vashon and Maury) indicates only one wide-ranging male cougar now present on the island. We have never had a cougar's photo snapped at the same time on two different cameras. We have evidence from one video capture that this cougar is male, and while it is somewhat hard to tell individual cougars apart, the general physical proportions in photos and track measurements consistently point to one individual.
Future posts in this series will include the perspectives of scientists, farmers, naturalists, and others. Subscribe to our blog to be notified when new articles are posted.
Featured image: A view across Colvos passage from Paradise Cove at sunset. This is the route we speculate from sightings that the cougar may have swam. photo by: Bianca Perla