BeachNET
Welcome to BeachNET, Vashon's Beach Nearshore Ecology Team!
BeachNET is a network of scientists and community members who help monitor the health of our beaches. Besides collecting data, we often pause to explore, experience, and learn from the experts among us about what lives on our shores. Join the fun! Contact us to sign up.
BeachNET volunteers help us collect a variety of valuable information about the health of our shores: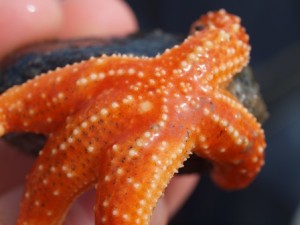 Seastar surveys: Every year seasoned Beach Naturalist volunteers assist VNC staff in leading Vashon High School students on an annual seastar population and health survey. Our data is then entered into the Seastar Wasting Disease database, a part of the Pacific Rocky Intertidal Monitoring Network. This database is used by scientists nationwide to help learn more about the habits and trends of seastar wasting disease. Learn more in this great short video.  Visit seastarwasting.org to search for our Vashon data.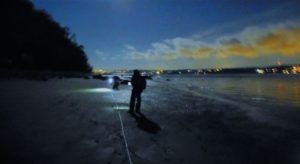 Forage Fish monitoring: These poor fish, so little is known about them and they are named only in reference to their food value with no identity of their own (well okay they do have other names: pacific herring, sand lance, and surf smelt). In partnership with Washington Department of Natural Resources and Vashon Maury Island Land Trust BeachNET volunteers are helping put these little fish on the map: where do they spawn, when do they spawn, how long do they spawn, what types of physical characteristics on the beach do they need? Surveys take place once per month throughout the year at select beaches in Maury Island Aquatic Reserve and occasionally beyond.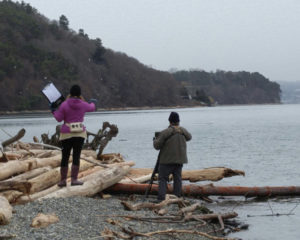 Shoreline restoration monitoring: BeachNET volunteers are working in partnership with Vashon Maury Island Land Trust, King County, Washington Department of Natural Resources and University of Washington to seize an incredible opportunity to study what happens to shorelines when bulkheads are removed. We use the shoreline toolbox developed by University of Washington Toft lab to monitor several different physical and biological parameters including: terrestrial insect fall out, driftwood, overhanging vegetation, beach profile and sediment sizes, birds, fish use (through snorkel surveys) and beach wrack (the line of seaweed and other flotsam left by tides).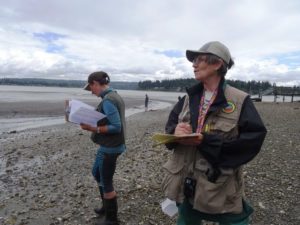 Maury Island Aquatic Reserve Citizen Stewardship Committee plans citizen science studies (undertaken by the BeachNET team) as well as stewardship and education activities within Maury Island Aquatic Reserve. Some of the activities the CSC helps organize are: beach clean ups with Washington Conservation Crews and Washington Department of Natural Resources, citizen science projects like those described above, Low Tide Festival, and interpretive signage and outreach about the aquatic reserve. Vashon Nature Center acts the coordinator for this committee and anyone is invited to join. Contact us if you'd like to come to our meetings and help shape the way local citizens steward and learn about our local aquatic reserve.
BeachNET materials:
Read our recent blog article. The first in a series on BeachNET activities.